Simple Azure Durable function implementation
24st July 2021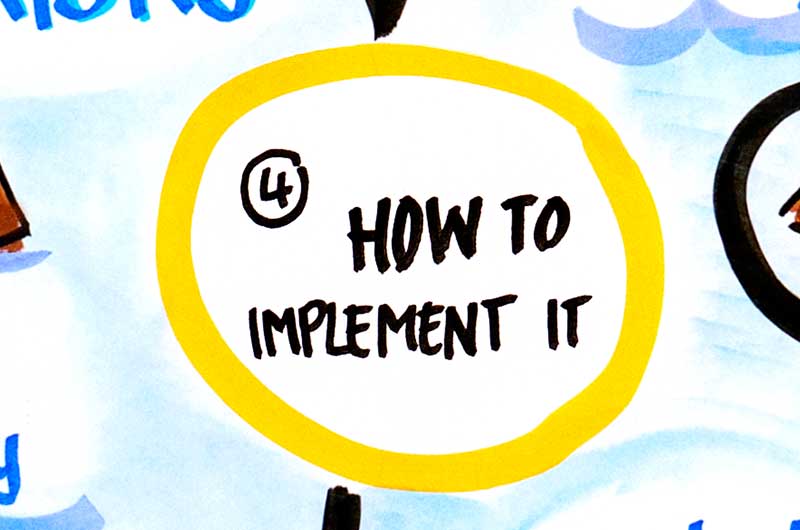 We have already discussed quite a bit about Azure Durable Functions. I did write up on a bit of history and why we need Azure Durable functions. You can read my blogs here to get more information.Links: Why do we need Azure Durable Functions and its history
I also wrote about What are Azure durable functions
What is difference between Azure Durable Function and Logic Apps
Patterns and Best Practises - Azure Durable Functions

All above is good but nothing better than actual implementation.And I wanted to keep things simple and straightforward. In this blog, I will implement  Azure Durable functions in the simplest possible way. I will show you step by step approach so that you don't get stuck. What will you need?
Some basic understanding of Azure Durable Functions. If you are not aware please read my blogs.Links given at the top of this blog
Visual Studio Code
Postman client
Create the project
1.
Open Visual Studio Code
2.
Go to
Extensions
. Img below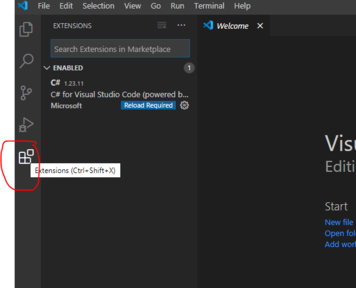 3.
Install below 2 extensions if you dont have them already
Azure Functions. Image below




C#.Image below


4.
Then just follow the steps to create the project
Get to Command Palette. You can get to Command Palette by either clicking on View tab in Visual Studio. You can also press Cntl+Shift+P to get to Command Palette

Please refer image below



Select the type of project you want to create.I selected Azure Functions


Select the folder you want to create your project in
Select the programming language you want to build you Azure Function in. I selected C#
Select the template for your project's first function. I chose DurableFunctionsOrchestration



Provide the function name, namespace . I chose default one. I named it DurableFunctionsOrchestrationCSharp1 ,gave namespace as Company.Function
5.
Now your project is created.Link it with storage account. You need to have your Azure Login or create a new Azure Login
6.
Once you login to Azure succesfully, you will be prompted to
Select storage account
or
Create New Storage account
I just selected an existing storage account. The reason you need storage account is because you want to save the state of your function and it needs to be saved somewhere for later recovery.
7.
Then you just need to choose how you want to open your project. I want it to
open in current window
so I select that option.Once you select that your project will be created and you will see few files created including
DurableFunctionsOrchestrationCSharp1.cs
file we created in the
Company.function
namespace.The class also has few default functions with some sample code in it.It's given so that you can kickstart the project quickly without much of typing. Image for reference below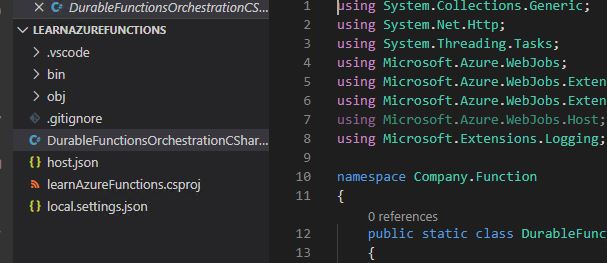 Above all will be same for you too except the
orhestration.cs file
which in my case is
DurableFunctionsOrchestrationCSharp1.cs
which is the name I gave. Second thing you will see different is ofcourse the
.csproj filename
which in my case is
learnAzureFunctions.csproj
because I created the function in learnAzureFunctions folder(I selected that folder in step 4 above)
8.
Above, like I mentioned in above point, there are three functions generated for you. Each functions has a
FunctionName
assoicated with it. It is done using
FunctionName("**name of the function**")
keyword. Runtime will know what these functions are and will create endpoints and clients will know how to call them